Coachella, Lightning in A Bottle, EDC Vegas, multiple sets at Burning Man, touring the US with Ardalan, two sets at Nocturnal Wonderland, a pool party at The Standard, a Dirtybird takeover at Amoeba Records, and next up, Dirtybird Campout, Sacha Robotti is quite the busy DJ and producer. To say he's doing well is an understatement. Packing heat and beats, Italian-German, Belgium bred Sacha Robotti has been into music since the early age of 7 when he started playing the cello. He always had an interest in electronic music and fast-forward to the future, he's taking over the electronic dance music scene.
Through hard work and drive, Sacha has been making a name for himself with his unique music style that never disappoints a crowded dance floor. A mix of booty-shaking beats and funky melodies seems to always get bodies moving and grooving. Most importantly, not only are his productions one-of-a-kind, but Sacha Robotti knows how to read a crowd, and that's a key to being a successful DJ. He's always connecting with fans, immersing himself in the music scene, and truly pursuing his musical dreams, which is inspirational to everyone who wants to achieve their aspirations.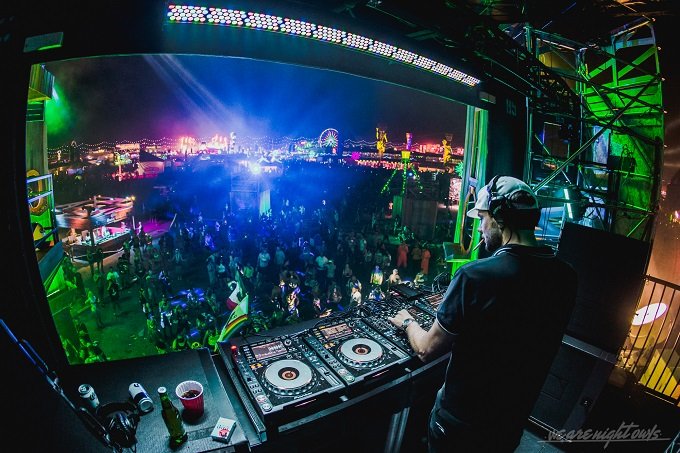 Sacha Robotti was taken under Claude Vonstroke's Dirtybird wings in 2012 when he dropped his first DB track, "The Major" featuring DJ Rush. His next dream came true in 2013 when he released a collaboration with Claude himself, a VIP version of "Lay It Down – Re-Smoked." Since then it's been love at first sight with the label. Celebrating Dirtybird's tenth anniversary in 2015, Sacha released "Thump Bumper" on the birthday compilation with Kevin Knap, which got voted by Mixmag as one of the "10 tracks that defined Movement Festival Detroit."
Playing since the first inaugural Dirtybird Campout in Southern California in 2015, he's coming back again this year, October 7th-9th to Oak Canyon Park along with the whole Dirtybird crew, hopefully as a camp counselor, but most definitely, a fellow camper who will be gifting us with live sets and an awesome camping experience.
With quite the discography and collaborations, Sacha doesn't play around, only when he's on the decks goofing around with fans and friends. You can always tell he's having a great time when he spins live, dancing to the music and making his fans happy with his impressive song selections and mixing. His good vibes are contagious and his music speaks for itself.
Recently moving from his hometown of Berlin, to the heart of Los Angeles, Sacha has a lot in store for his career. Find him around Southern California, whether it be at a club he's spinning, or supporting his DJ friends, he'll always say hello with open arms!
As for now, 2016 is treating him very well. Sacha has just released a track with Justin Jay called, "Broke The Law," on the Dirtybird BBQ Compilation, he has an upcoming track on Insomniac Records called, "Plant The Seed," and an upcoming release called, "This Ain't Bristol." Keep an eye out for more music and more fun from Sacha Robotti.
Get to know a little more about Sacha and where his music has been taking him, as we caught up with Sacha Robotti upon his arrival to Nocturnal Wonderland straight from Black Rock City where he played at Burning Man. We talked about Nocturnal, his first time at Burning Man, what's in store for his upcoming appearance at Dirtybird Campout and random things.
How are you tonight? Are excited to play Nocturnal Wonderland? 
I'm very excited, I don't know yet what I'm going to play, I'll see what people need and want and we're just gonna have fun, some nice drops, some good atmosphere. It's going to be two gigs so two hours, an hour here and an hour there. One at the Upside Down House and a live stream closing set at the Mixmag Smirnoff House.
Where are you from originally? 
I'm German-Italian. My name Robotti is an Italian name. My dad is Italian and I grew up in Belgium. I was born in Brussels, and I grew up there. That's my "origins." I studied architecture for a while in Scotland, then I moved to Berlin and I lived there for 16 years. Now, I just moved from Berlin to here (Southern California), about six months ago.
So what do you like about California compared to Europe and where you're from? and the music scene? What do you love about coming back to America also?
Specifically, about California, I like the appreciation from the people, they appreciate you more than Berlin, I would say. It is more like a direct feedback. "You're awesome," as opposed to not saying anything. That's a really nice thing. I like the different influences of cultures in America. Germany is also a melting pot but that's also depending on the city. I've been on a "Thunder Tour" with Ardalan and we went to some cities I had never been to before, which was also awesome. There are lots of Dirtybird fans. Even if the club is empty, you always see like three guys with Dirtybird hats. It's pretty funny.
Speaking of Dirtybird, you're going to be at Dirtybird Campout. Are you going to be camping at Dirtybird? 
I think so, I don't know if I'm sleeping in a tent or an RV yet, but I hope I can be a camp counselor and run around with the whistle, make people do push-ups and stuff!
You've been playing a lot of festivals. Is there one festival you've played in your life that stands out as your favorite?
This year was the most amazing for me, I just came back from Burning Man, literally just now. It was great, it was very mind-blowing. I'm very tired. It was my first time and it was amazing. I was there for ten days and I built the campsite before it was open. It was great. Dirtybird campout last year was awesome. Do Lab at Coachella this year was really dope. It was my birthday and I had a moment that was very special. Five-thousand people sang "happy birthday."
-feels-
When did you know that people recognized your music?
When I was walking in Santa Monica and this girl stops at the light and goes "Sacha, I love your music!" I love that. Some people recognize me and it's very nice to get that feedback.
We reminisced about the first time I saw him at Genesis for Space Yacht, a now iconic local electronic show every Tuesday night in Hollywood.
That was a funny gig. These girls just started dancing up in front. It was hilarious, they just went on stage and shoved their booties in our faces.
You're on the road a lot, you just got back from Burning Man, is there an essential necessity on the road that's not music related?
Sleep! Sleep is the best, it's essential. I think if I want to, as you say,  "make it," for a long time, then I need sleep. I need at least six hours of sleep. You don't get any younger.
What's your favorite food?
Right now I'm really addicted to Ramen. The Japanese Ramen. Everywhere I go I try to eat Ramen. I had some Ramen at Burning Man too. I was looking for Ramen and we found it.


Does it take a lot of willpower to go to Burning Man or was it easy for you?
You need a ticket first, so it's also luck I guess. Then it takes willpower and money to go there because you have to bring everything, you have to live, have a tent, have an RV or whatever. People took their moms to Burning Man, my two good friends took their mothers. One of the moms got drunk!
One of his sets was at Pile Palace, a destination for the musical community of Desert Hearts.
Desert Hearts asked me if I wanted to play at Burning Man so maybe I'll play some Desert Hearts shows.
What genres of music spoke to you the most?
I like any music actually. As a kid, I played cello so I like classical music. My sister is a pianist and a piano teacher. I know classical music. I love Jazz, I met Herbie Hancock a few months ago at dinner and I was very happy.
Does classical music helps in music production he said?
Maybe with knowing the melodies. Everything helps, the better you get at it, the more practice you have, the more you listen to, the better. If you have some theory background, or orchestra that's good too. I played the cello, the bass-ier voice of the orchestra.
If someone you truly love wanted to become a DJ or start producing, what's one reason you would want them to pursue that dream and one reason you wouldn't want them to? What will they have to deal with?
If you're at home a lot and don't DJ, if you live a sedentary lifestyle, get a regular job. But, if you like to travel, be prepared to sometimes not have any money, be really tired, then do it. If you love it, do it. If you don't love it 100 percent and you just want to do it because your friends are doing it or for the money, I wouldn't do it. Be your own self. And then, if you can make a living with that, it's ideal.
Don't forget to like Sacha Robotti on Facebook to keep up to date with his tour dates check out his Twitter and Soundcloud. Don't miss him at Dirtybird Campout!